PLEATS – Art & Textile
You can now take a virtual tour of the exhibition jointly organized by Tamat (Musée de la Tapisserie et des Arts Textiles de la Fédération Wallonie-Bruxelles) and the Fine Arts Museum of  Tournai, Belgium.
The Robert Mazlo Endowment Fund for Art & Contemporary Art Jewellery in collaboration with LA Joaillerie par Mazlo gallery and the  Alice Art Foundation is glad to announce that three of our guest artists, Mariko Kusumoto, Helfried Kodré and Heidemarie Herb, have their work featured in an ambitious exhibition exploring the topic of Pleats, held in Tournai, Belgium, at TAMAT (Tapestry and Textile Arts Museum of the Wallonia-Brussels Federation) & Museum of Fine Arts.
Originally planned to last until May 2020, the exhibition unfortunately had to be interrupted earlier due to the Covid-19 sanitary crisis, but you can now take a virtual tour of the exhibition by visiting the TAMAT website. A wonderful initiative that we highly recommend to find out everything you need to know about pleats and their secrets from A to Z!
Please note that the part of the exhibition hosted by the Museum of Fine Arts is now open to the public, exclusively through online booking until September 13th.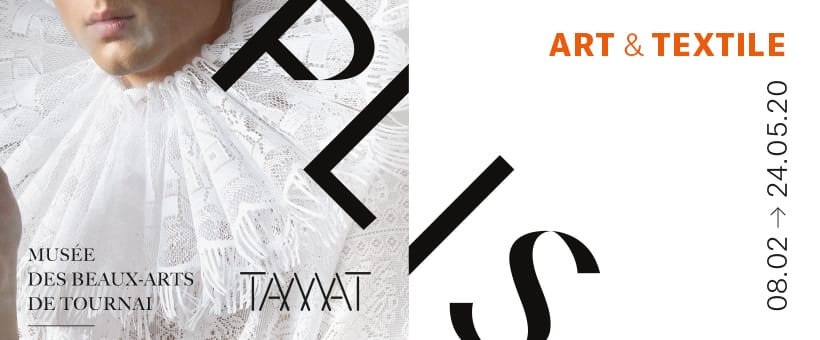 FINE ARTS MUSEUM
> Rue de l'Enclos Saint-Martin 37500 TOURNAI (Belgium)
HEIDEMARIE HERB

Born in Germany (Bavaria) in 1969, Heidemarie herb obtained her professional diploma as a goldsmith in 1991 in Munich. She then received a certification for gemstone expertise from the German Diamond Institute (DDI). She continued her training through courses, lectures and workshops. The Amber Research Symposium and the DuPont Powder Coatings Training in 2008 are milestones in her artistic development.
Her work has been shown in numerous major exhibitions in more than fifteen countries, including her "Amber Chamber" project in the United States. Her work has been awarded several prizes in Poland, Russia and Italy. Her work is in the permanent collections of the Museum of Amber in Poland, the Malbork Castle Museum in Poland, the permanent collection of the Cominelli Foundation in Italy and in private collections in Austria, the United States and Lithuania.
HELFRIED KODRÉ

Born in 1940 in Graz, Austria, Helfried Kodré is a pioneer of contemporary jewellery (he participated in the Jablonec Silver Jewellery Symposium in 1968 alongside many eminent figures as Anton Cepka, Bruno Martinazzi, Hermann Jünger and Jaroslav Kodejš).
He was introduced to goldsmithing in the 1960s, while still a student of art history. He first worked alongside Elisabeth Defner. In the mid-1970s, he gave up jewellery to become a full-time university professor. He reappeared in the early 1990s as an artist jeweller.
Two diametrically opposed periods can be distinguished in the work of this artist. If at the beginning he opted for symbolism and organic forms, his work has been based since the beginning of the 1990s on a precise and sharp aesthetic, clearly minimalist.
Helfried Kodré lives and works in Vienna, Austria. His works are part of the most prestigious collections: Österreichisches Museum für angewandte Kunst, Schmuckmuseum Pforzheim, Die Neue Sammlung, Danner-Stiftung. He has been awarded the Bayerischer Staatspreis (1967), the Wiener Kunstfonds Preis (1968) and the Preis der Stadt Wien für Bildende Kunst (2000).
MARIKO KUSUMOTO
Born in Kumamoto, Japan, Mariko Kusumoto grew up in a Buddhist temple on Kyushu Island. In 1989, she obtained a BFA in painting and engraving from Musashino Art College in Tokyo, and in 1995, a MFA from the Academy of Art University in San Francisco.
Today, Mariko Kusumoto lives and works in Massachusetts. Her works are shown in the permanent collections of many museums : the Museum of Fine Arts in Boston, the Koch Collection of the Swiss National Museum, the Racine Art Museum, the Morikami Museum, the Museum of Arts and Design in New York.
Mariko Kusumoto's works are divided into two groups and, so to speak, into two artistic periods that are diametrically opposed by the nature of the materials and the techniques they explore. During eighteen years, the artist has been indeed recognized for her extensive exploration of metal, creating intricate and technically demanding works composed as genuine miniature theaters with the codes of surrealist art and diorama. From 2013 onwards, after completing her most ambitious piece "Pachinko Voyage" which took her a whole year of an exhausting work, she decided to change her medium and turned to textile. To create her new pieces, she uses the traditional tsumami zaiku folding technique combined with a heat-setting process for synthetic fabrics (hot molding). She explores the forms from nature – plants and animals – to compose objects and jewellery with translucent, light and delicate shapes.
The works of Mariko Kusumoto have attracted the attention of many creators, including the French couturier Jean Paul Gaultier with whom she collaborated for the haute couture collection unveiled in January 2019.