Presentation
Robert Mazlo Endowment Fund for Art & Contemporary Art Jewellery
Robert Mazlo Endowment Fund for Art and Contemporary Art Jewellery is an endowment fund (regulated by Law of modernisation of the Economy n° 2008-776 of August 4, 2008, Law known as LME) created during Summer 2018 in Paris.

 Board Members :
> President : Robert Mazlo (author jeweller and designer);
> Treasurer : Chloé Mazlo (filmmaker and visual artist);
> Secretary : Arketip Association (under the 1901 Associations Law) created in 2011 with the aim of building bridges between different artistic practices, know-hows, disciplines and fields of knowledge, by establishing work themes allowing transversal exchanges. The questions around the links between the art of jewellery and the human being in general are one of its main research subjects.
The Robert Mazlo Endowment Fund for Art and Contemporary Art Jewellery aims to promote contemporary studio and art jewellery, and to participate in the preservation of the related know-hows by fostering the bridges between these artistic expression forms and other artistic practices, skills, disciplines and fields of knowledge.
The creation of the Robert Mazlo Endowment Fund for Contemporary Art and Jewellery results from an alarming observation regarding the situation of contemporary jewellery in France and abroad.
Indeed, despite the historical emergence of contemporary jewellery in the Western world around the 1960s and 1970s, this mode of artistic expression is struggling to break a glass ceiling that hinders it it to gain the recognition it deserves, particularly among institutions and the general public.
Today, practitioners of experimental jewellery are faced with many difficulties:
> the lack of recognition of their art;
> the lack of visibility both in relation to other arts and to other types of jewellery (costume, design, craft, fine jewellery);
> financial insecurity.
The educational situation is particularly critical. Apart from a few exceptions, schools specialising in the teaching of art and jewellery creation are increasingly neglecting the learning of traditional techniques in favour of technologies such as CAD and 3D. This loss of know-how has serious consequences on the future of these professions:
> standardization and uniformity of creation;
> lack of autonomy of craftsmen/artists;
> an increased division between designers (stylists) and performers (technicians);
> relocation of production;
> over-consumption of jewellery and accessories and over-exploitation of raw materials.
Knowing how to "make" an object also means being able to repair and restore it. Now that we are faced with social and environmental issues, we must reconsider our way of consuming by giving priority to sustainability…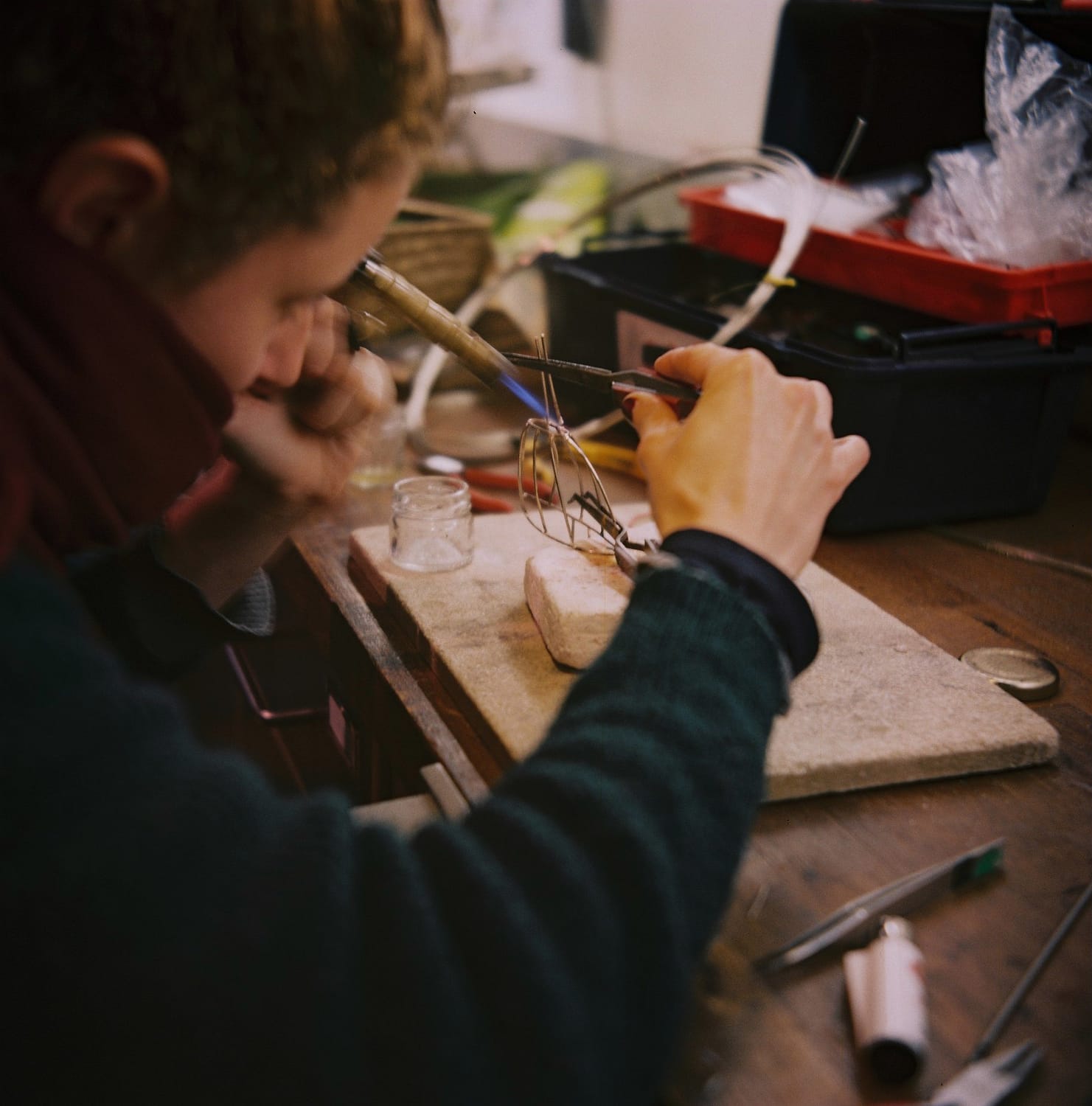 How can jewellery be at the heart of a contemporary debate of ideas?
Jewellery is undeniably the only work of art that is universally shared. Whatever the time, wherever the place, from the ancient Egyptians to the Inuit to the elegant women of the Victorian era, all human beings who inhabit or have inhabited this earth have made and/or worn jewellery.
It is a transgenerational and transcultural object that is evocative of stories and that immediately creates a link between the creator, the wearer and the beholder.
 > These unique objects/pieces question our relationship to the multiple and raise the question of reproducibility;
> They are part of an ethical and committed form of production, in particular thanks to the variety of materials used (echoing environmental issues);
> They are at the heart of social and economic issues in a society where work is increasingly disembodied and where the working population experiences less and less satisfaction in performing their tasks. Like all works of art, jewellery bears the imprint of its creator's hand and spirit. It is the result of know-hows as well as of a know-how-to-be.
From left to right and from top to bottom: Pendant by Helen Britton – Brooch/necklace by Wendy McAllister – Brooch by Per Suntum – Necklace by Jana Machatova.